Research is about inquiry. Inquiry involves exploring ideas and information to make new discoveries, and it starts with asking questions. 
Know your purpose.

Think about your topic. 

What do you want or need to know about your research topic?

Then do some background reading to learn more about the topic.

Next, write a general statement of purpose that begins with words like "I want to learn about..."
Form your essential or guiding question.

It is the main question that will guide your research.

It restates what you specifically want to learn about, but as a question.

Don't worry if you are not totally sure; your essential question may change before you are done.
Brainstorm subtopics you could investigate to help answer your essential question. This may require more background reading.
 
Develop focus questions based on the subtopics you identified.

Each focus question covers one aspect or part of the essential question.  
They will guide you as you work so that you will read and take notes only on what is needed for your project.

As you research, you may need to add, remove, or change some of your focus questions. 

See the examples in the table below.
Examples 
One person was very concerned about air pollution.
Her general statement of purpose was this: I want to learn about air pollution.
Her essential question became this: What can be done to stop air pollution?

She read some background information, and these are a few of her focus questions: What makes (contributes to) air pollution? Why is air pollution bad? What are some of the ways that air pollution is being controlled?    
General Statement of Purpose   =>   More Specific Essential Question   =>   Example of 1 Focus Question
I want to learn about rap music.   =>   What is the origin of rap music?   =>   Who were some of the first rap artists?
I want to learn about the Oregon Trail.   =>   How did the Oregon Trail change the west?    =>   How did the population of the Oregon Territory change between 1843 and when it became a state in 1859?
I want to learn about the heart.    =>   Why is the heart an important organ in our body?    =>   What role does the heart play in the circulatory system?
I want to know about pro basketball.    =>   What does it take to be a professional basketball player?    =>   What eligibility rules are there for playing in the NBA?
I want to find out about recycling.    =>   How has recycling affected the environment?    =>   What happens to the plastics that get recycled?
I want to find out about fashion careers.    =>   How does one become a fashion designer?    =>   What schools offer fashion design as a degree?
I want to learn about Michelle Obama.    =>   How did Michelle Obama influence the younger generation as first lady?    =>   What was the Let's Move! program?
Some of the information about essential questions came from Holly Samuels, Librarian at Cambridge Rindge & Latin School in 2004. Adapted and used with permission.


To learn more, watch this Choosing a Topic & Developing a Research Question video.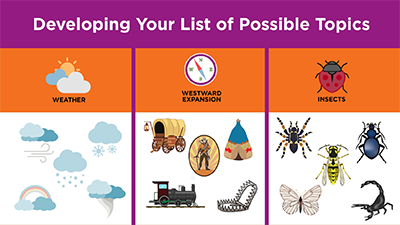 Next => Now that you have created your questions, it is time to choose your keywords.
---